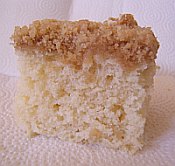 I had the urge to bake something the other day, and a recipe on the back of the Biscuit & Baking Mix (Bisquick, or store brand) seemed like it would be quick and painless, and would result in cake, which was the whole point, of course. I tweaked it a bit here and there.
John took one bite and his eyes lit up, "This tastes just like Drakes Coffee Cakes!" If you're a fan of Seinfeld, you know that there is NO higher praise for a coffee cake. Even Entennmann's brand, despite the fact that they have a display at the end of the isle. *grin*

Sour Cream Streusel Coffee Cake
Cake:
1 1/2 cups Biscuit & Baking Mix (Bisquick, or Generic)
1/2 cup sugar
1 egg
3/4 cup sour cream
1/2 teaspoon vanilla
Topping:
1/2 cup packed golden brown sugar
1/2 cup all purpose flour
3 tablespoons butter, softened
2 teaspoons vanilla extract
just a bit of powdered sugar for sprinkling
Preheat oven to 350 degrees. For the cake, stir all of the ingredients together in a large mixing bowl until thoroughly mixed. Spread batter into a greased 8-inch square pan. For the topping, mix all topping ingredients together in a medium-sized bowl, until crumbly. Sprinkle topping over the top of the cake batter.
Bake for 30 minutes or until a toothpick inserted into the center of the cake comes out clean.
Once the cake has cooled, powder the top of the cake with the powdered sugar so it makes a nice contrast with the brown sugar topping.