This Crumb Top Apple Pie recipe is just the thing if you don't have enough apples to make a regular apple pie; the recipe originally called for three cups of sliced apples instead of the usual six cups. Of course, this recipe requires a lot more butter for the topping than the basic apple pie recipe too, but we actually HAD butter we needed to use up (long story involving a malfunctioning refrigerator) so it worked out for us.
I started with the recipe from the The Complete Magnolia Bakery Cookbook
and made a few changes – you can get our modified version here: Crumb Top Apple Pie Recipe (also includes a link for a printable version.)
And here's the glorious outcome!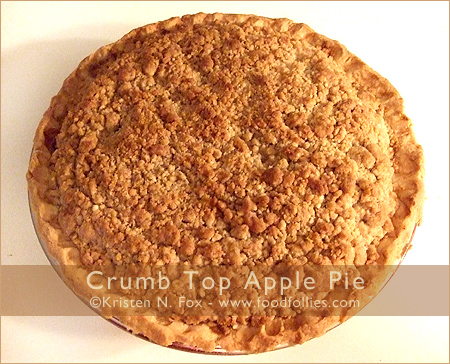 The topping was nicely crisp, and since the apple filling layer is thinner, it's not QUITE as much sticky-sweetness as a normal apple pie. I'd recommend eating it with a scoop of vanilla ice cream to round out all the flavors nicely.