When I saw the 2.5 lb container of fresh blueberries for 5.99 I looked at it sort of lovingly and thought, "I could make a blueberry pie." I've never actually made a homemade pie. Kristen usually is in charge of pies, while I'm normally in charge of grilling and making omelettes. When I worked as a cook, our pies were made with canned fillings, so there was no help there.
I did go the easy route and went with the pre-made pie crust. I've actually made my own pie crust before, for Shepherd's Pie, but since I was starting this pie in the evening, I wanted to move things along.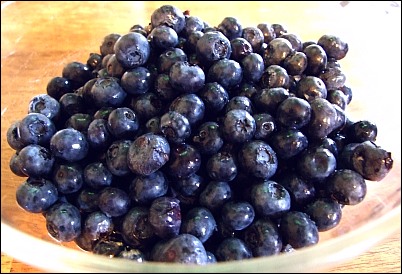 It took all of thirty seconds for us to find some basic blueberry pie recipes on the web and tweak our own variation. Putting the ingredients together was a snap, and we have enough blueberries leftover for sprinkling on breakfast cereals, mixing in yogurts and possibly sharing with the local wildlife.
Kristen guided me through the proper method of sealing the two pie crust halves. When I made my Shepherd's Pie, the edge was a bit on the crusty side. The baking took longer than we expected, about an extra half hour, but the results were delicious. This is the first homemade blueberry pie I've ever had and it beat every store or restaurant pie I've had hands down.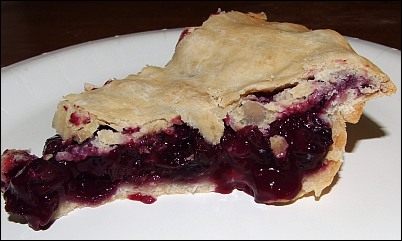 Hopefully, we can catch the other berry families on sale and live on pie for the rest of the summer. Oh, and here's the recipe we used:
Blueberry Pie Recipe
Filling ingredients:
6 cups of blueberries, cleaned and stems removed
2 Tbsp lemon juice, freshly squeezed if possible
1/4 cup all-purpose flour
1/2 cup sugar
1/4 teaspoon ground cinnamon
1/4 tsp salt
2 Tbsp butter, cut into small pieces
Prepare crust. If you have already made dough, on a lightly floured work surface, roll out half of the dough to 1/8-inch-thick circle, about 13 inches in diameter. Drape dough over a 9-inch pie pan and put into the refrigerator to chill for about 30 minutes. If you have purchased pre-rolled circles, allow them to defrost (if frozen) and place one of the circles in the pie pan.
Put blueberries in a large blow. Sprinkle flour over the blueberries and stir until the blueberries are all coated with the flour. Then, add the cinnamon, sugar, salt, and lemon juice, to the blueberries and mix until blended. Place in the chilled bottom crust of the pie pan. Dot the top with butter pieces. Roll out the remaining dough to the same size and thickness. Place the other piece of dough on top, trim to 1/2 inch over the edge of the pan, and crimp the edges with a fork or your fingers. Put the pie in the refrigerator to chill until firm, about 30 minutes. Pre-heat oven to 425°F in the meantime.
Remove from refrigerator. Score the pie on the top with 4 cuts (so steam can escape while cooking) – add a baking ring or put foil around edges of pie to protect edges. Bake for 20 minutes at 425°. Remove pie ring/foil. Reduce heat to 350°F and bake for 30 to 40 minutes more or until juices are bubbling. Let cool before serving.
Makes 8 servings.