This Crumb Top Apple Pie recipe is just the thing if you don't have enough apples to make a regular apple pie; the recipe originally called for three cups of sliced apples instead of the usual six cups. Of course, this recipe requires a lot more butter for the topping than the basic apple pie recipe too, but we actually HAD butter we needed to use up (long story involving a malfunctioning refrigerator) so it worked out for us.
I started with the recipe from the The Complete Magnolia Bakery Cookbook
and made a few changes – you can see our modified version below.
And here's the glorious outcome!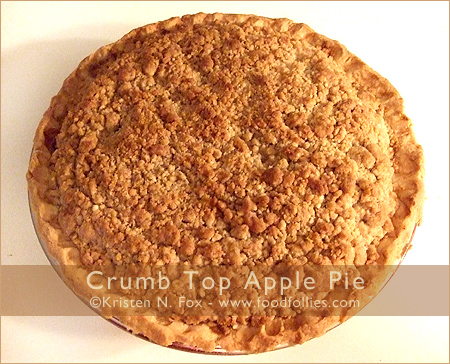 The topping was nicely crisp, and since the apple filling layer is thinner, it's not QUITE as much sticky-sweetness as a normal apple pie. I'd recommend eating it with a scoop of vanilla ice cream to round out all the flavors nicely.
Crumb Top Apple Pie
This pie is two equal depth layers – apples on the bottom and crumb topping on the top.
Crust Ingredients
(or use one part of a prepared crust)
1 1/3 cups all-purpose flour
1/2 cups butter, slightly softened
3 tablespoons ice water
Filling Ingredients
1/2 cup sugar
1 tablespoon all-purpose flour
1/8 teaspoon cinnamon
pinch of nutmeg
3 cups tart apple slices (we recommend Granny Smiths)
Crumb Topping
2 1/4 cups all-purpose flour
1 1/2 cups lightly brown sugar, NOT packed
1 cup of unsalted butter, softened, cut into small chunks
Preheat oven to 425 degrees.
Crust: Measure the flour into a large bowl. Use a pastry blender
(or two knives) to cut the butter into the flour until you get very
small chunks. Add the ice water, by tablespoon – not all at once,
into the mixture, tossing with a fork until integrated into the dough,
and the dough is moist all around. Using your hands, form the dough
into a ball, and roll it out on a lightly floured surface, large
enough to fit the bottom of a 9-inch glass pie dish. Fold and crimp
the edges to finish.
Filling: In a large bowl, combine sugar, flour, cinnamon and nutmeg.
Add the apple slices and mix gently until all of the apples are coated.
Scoop the apple mixture into the pie crust.
Topping: In a medium or large bowl, mix the flour and brown sugar together.
Using a pastry blender (or two knives), cut in the butter until the mixture
LOOKS like a coarse crumb topping. Sprinkle the mixture over the filling
in the pie pan – make sure it's well covered.
Bake at 425 degrees for 10 minutes, then turn the oven down to 375 and
bake for 25-35 minutes longer, or until golden brown on top. Serve with
vanilla ice cream or whipped cream.