A long time ago we'd found these terrific little individual serving glass pyrex dishes at the Dollar Store of all places, and the other day I got to use them for the first time when making a couple of mini apple pies! (I would have made a regular pie, but we only had three apples in the fridge – besides – what a good ready-made excuse to use the darn things.)
I cut our apple pie recipe (below) in half, and also cut our pie crust recipe (below) in half. I also have to admit that this is the first time I've actually made a pie crust from scratch! John's made them from scratch, but I've grabbed the pre-made crusts in the past. But after doing this and seeing how easy it is, I'll probably hardly EVER use the pre-made crusts again.
The final pies came out really cute, and just like a regular apple pie, although the 'individual' portions were pretty big, but we got over it.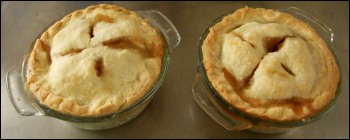 One more point: as you can see in the photo, I sealed the edges of the pie like normal, but tucked the edges back in the glass pan a bit since I didn't want them to get dried out or burned. Wallah!
Here are the recipes I adapted…
Apple Pie
6 cups thinly sliced apples (Granny Smith, MacIntosh do well)
3/4 cup sugar
2 tablespoons flour
3/4 teaspoon cinnamon
1/4 teaspoon salt
1/8 teaspoon nutmeg
1 tablespoon lemon juice
1 package Pillsbury pie crusts (2 crusts)
or use a homemade double crust recipe
Bring crust to room temperature. Unfold crust and press out fold lines with fingers. If crust cracks, wet fingers and push edges of crack together to seal. Place crust in ungreased 9-inch pan, glass recommended. Press crust firmly against sides and bottom. Trim crust along pan edge. (Or follow homemade crust recipe)
Heat oven to 425 degrees. In large bowl, combine all filling ingredients; mix lightly. Fill pie crust. Place second crust over filling. Wrap excess top crust under bottom crust edge. Press edges together to seal – flute. Cut slits in top crust.
Bake at 425 degrees for 40-45 minutes or until apples are tender and crust is golden brown.
Note: Slice the apple pieces really thin to make sure they can be cooked through completely during baking. Also, when cutting up the apples, don't get TOO close to the core. You want to cut off any section that has any core 'string' type stuff on it because that won't get soft while cooking and can be annoying to bite into. Also, if you use Granny Smith apples you get more tartness than MacIntosh, FYI.
Pie Crust
1 cup Crisco (or butter)
2 and 1/4 cups flour
1 teaspoon salt
3/4 cup ice water.
Mix Crisco, flour and salt with a fork until crumbly.
Add 1/2 cup of water to flour mixture and mix with a fork.
Add remaining water until mixture is moistened – you
probably won't have to add ALL of the leftover water.
Roll out 1/2 of the dough on a board covered with flour.
Use enough flour to make it roll easily.
This makes top and bottom for a 9-inch pie.