John and I live WAY out in the country, and down a private road behind a locked cattle gate so the only Trick-or-Treaters we'd get out this way would be the raccoons, what with their masks and all. Anyway, since we aren't do anything particularly interesting this year for Halloween, I thought I'd pass along a recipe and photos from a friend of mine, Jen Goode
In her own words…
A fun project for any age. My preschooler had a great time molding the balls, it's much like playing with play dough.
Chocolate Peanut Butter Popcorn Balls
What You'll Need:
2 standard pouches of microwave popcorn (approx 6-8 cups popped)
1 package chocolate marshmallows
1/4 butter or margarine
1/2 package chocolate chips
1/2 package peanut butter chips
1 large cooking pot
Standard (non zipper) sandwich bags or plastic wrap
note: no chocolate marshmallows? replace with 1 package regular marshmallows and 1/2 package chocolate chips – melted together
How to make it:
Over medium heat, melt butter. While the butter is melting, pop popcorn andset aside. Stir in marshmallows and continue stirring until thoroughly melted. Remove from heat. Stir in popcorn until thoroughly mixed.
Pour into a big mixing bowl so the mix will cool quicker. Let cool for 5-10 minutes. Gently stir in chocolate and peanut butter chips.
Mold handfuls of mix into ball shapes. Make sure to compact the balls gently but firmly so that they stick together well. It's ok to "squish" them a little.
Tip: Use plastic wrap or plastic sandwich bags to prevent too much sticking to your hands.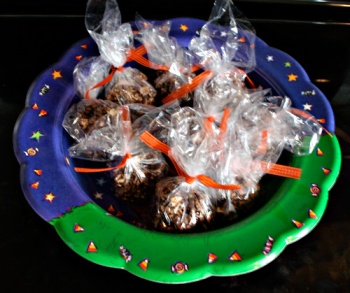 Place each ball in a plastic sandwich bag and tie with a bow. Enjoy!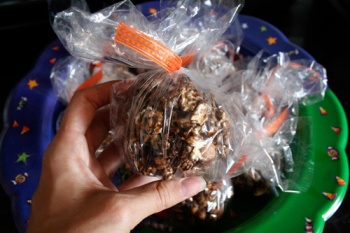 Halloween deliciousness brought to you by Jen Goode.
[Tags: food, halloween, recipe, popcorn, popcorn balls]