We have a backlog of food events/photos to post about, so you'll be seeing some that happened a while ago – I'm sure you'll adjust.
For example, sometime during the holiday season I made Bon Bon Cookies – a Hershey kiss inside a ball, dipped in chocolate glaze. The dough makes EXACTLY two dozen if you use only enough dough to make sure the kiss is completely surrounded – no extra. It's great exercise for your hands, needless to say.
And here's a delicious photo: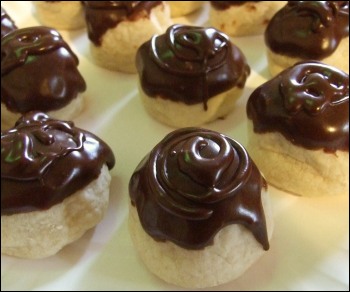 I had some extra glaze so that's why you see some textury-type swirls on top of the first layer of chocolate there.  You could probably make these for Valentine's day – who wouldn't love these – wrapped up with a red bow and all.
Bon Bon Cookies (kiss inside ball)
3/4 cup powdered sugar
1/2 cup margarine or butter softened
1 tblsp. vanilla
1 1/2 cups all purpose flour
1/8 tsp. salt
1 pkg. kisses
Heat oven to 350 degrees, mix powdered sugar, oleo, and vanilla. Work in flour and salt until dough holds together. For each cookie, shape dough by tablespoonful around kiss to form ball. Place one inch apart on UNGREASED cookie sheet. Bake until set, but not brown (12-15 min). Cool. Dip tops into glaze. Decorate with coconut, nuts, colored sugar… (2 dozen)
CHOCOLATE GLAZE: beat one cup powdered sugar, 2 tblspoons milk, 1 oz. melted unsweetened chocolate (cool) and 1 tsp. vanilla until smooth and of desired consistency.