I'd never actually made a pound cake from scratch before so I looked around online for a few likely recipe candidates – finally settling on a few from allrecipes.com, and adding my own little tweaks. This isn't a loaf pound cake, but a tube pan pound cake – MUCH bigger. And taller. And excellently dense, of course. I'm also glad I had the foresight to pull out our extra huge bowl to mix this in too – not surprising though, once you see the ingredients list! (Sorry – forgot to take an in-progress photo of the bowl of batter and beaters, etc.)
The batter was so thick that when I was putting the batter into the pan, it was much less of a 'pour' and more of a 'scoop and drop', but it worked out fine, as you can see:
The cake came out really tall too, although that's hard to see in the photo.
While the cake was cooling, I made an easy raspberry sauce – nicely raspberry-ish, but not overly sweet: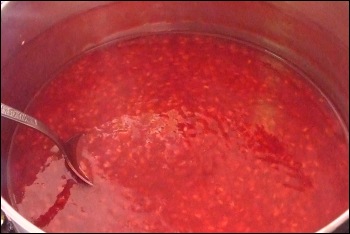 After the sauce was done I put it through a small strainer to take most of the seeds out so it was very smooth.
And the serving suggestion – slice a nice hunk of that cake and drizzle the raspberry sauce over it just before serving – yum! Would probably also be good with a dark chocolate drizzle or the like. Take a small slice unless you're REALLY hungry – as with most pound cakes, this is very dense and filling.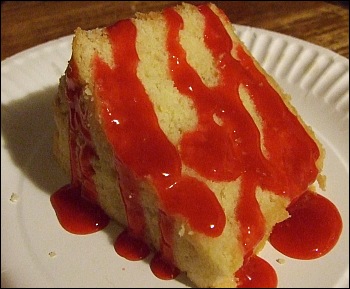 Pound Cake with Raspberry Sauce
2 cups butter, softened
2 3/4 cups white sugar
6 eggs
3 3/4 cups flour (use cake flour for a less dense cake)
1/8 teaspoon salt
1/4 teaspoon nutmeg
1/2 cup milk
1 tsp. lemon extract
Grease and flour a tube cake or bundt cake pan.
Sift together flour, salt, and nutmeg in large bowl. Set aside.
Beat butter until soft and creamy. Gradually add 2 3/4 cup sugar, beating as you go, 5-7 minutes.
Add eggs, one at a time, beating just until the yellow of the yoke disappears.
Add flour mix alternately with milk, beginning and ending with the flour. (Mix on low speed, just until blended.)
Stir in the lemon extract.
Pour batter into pan, smooth out the surface. Bake at 325 degrees for 1 hour and 15 minutes, until a toothpick comes out clean.
Raspberry Sauce
1 pint raspberries
1/4 cup sugar
2 tablespoons orange juice
2 tablespoons corn starch
1 cup cold water
Put raspberries, sugar, and orange juice in a saucepan. Whisk corn starch in water, then add to ingredients in the sauce pan. Bring to a boil.
Simmer five minutes, stirring constantly, until desired consistency and thickness. (Sauce will thicken a bit more as it cools.)
If you want, you can also pour the sauce through a strainer to remove the seeds and make a smooth sauce.
Drizzle over slices of pound cake just before serving.