A while ago, I had an impulse to try making chocolate ganache. For a long time I'd thought ganache to be this tremendously tricky thing (probably because the word 'ganache' SOUNDS complicated, although apparently it comes from the French word 'jowl', which makes sense, but suddenly makes it seem NOT so exotic anymore – heh), but when I found a recipe, I was pleasantly surprised and thought, "Hey, even *I* could make this!"
I used the chocolate ganache recipe from allrecipes.com (minus the rum – that just leaves heavy cream and chocolate chips), and poured the finished product over a single layer of a chocolate mayonnaise cake that I had made earlier just for this experiment.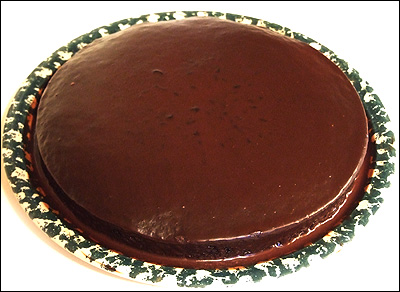 It is recommended pouring the ganache on top of the cake when the cake's on a baking rack so it doesn't pool and the sides look smooth, but I did it right on the plate because I didn't feel like messing with the rack, but in the future, I'd recommend the rack method. (You can see a bit of the pooling in the image above.)
Anyway, it came out nicely, I think. Next time, however, I'm going to add a touch more chocolate than is recommended and wait a tad longer for the ganache to cool, as it was a little thin when I poured it on the cake.
Also, if you whip the ganache in a mixer for about 5 minutes I hear you'll get fantastic frosting, although I haven't tried this myself yet.