It's funny the way the mind works. This morning before breakfast I thought about the nice bag of MacIntosh apples that we'd bought a day or so ago, then remembered that we still had two Granny Smith apples in the fridge from even earlier, at which point my brain just interrupted itself to yell "Apple Streusel Muffins!" So, not wanting to cause any internal conflicts so early in the day by struggling with that thought, I found a recipe online and dashed to the kitchen.
I made some adjustments to the original recipe which I think worked out well – here's the final Apple Streusel Muffins recipe (below) that I worked from. Came out looking and tasting delicious, if I do say so myself. Of course, the other samplers I had on hand also seemed to like them, so there's more than just my opinion, if you were worried – LOL.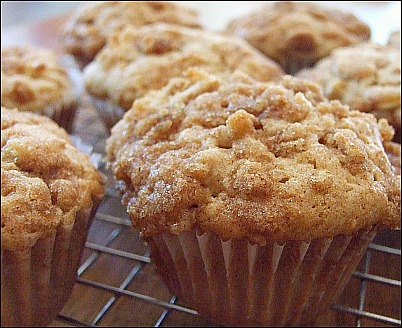 Apple Streusel Muffins
2 cups flour
2 teaspoons cinnamon
1/4 teaspoon nutmeg
1 teaspoon baking powder
1/2 teaspoon baking soda
1/2 teaspoon salt
1/2 cup butter, softened
1/2 cup white sugar
1/2 cup brown sugar
2 eggs
1 1/4 teaspoons vanilla extract
1 1/2 cups chopped apples
1 1/2 cups shredded apples
Topping:
1/3 cup brown sugar
1 tablespoon flour
1/8 teaspoon cinnamon
1 tablespoon butter, softened
In mixing bowl, mix flour, cinnamon, nutmeg, baking powder, baking soda, and salt, and set aside.
In large mixing bowl mix butter and sugars until creamy. Add eggs and mix. Mix in shredded and chopped apples and vanilla. Gradually stir in flour mixture until well mixed. Batter will be thick.
To mix topping, combine brown sugar, flour, cinnamon, and butter in a small bowl and mix with a fork to get smallish crumbly chunks.
Grease regular-sized muffin tins (or use paper liners) and fill each space with muffin batter. Then, sprinkle about a half teaspoon of streusel topping on each muffin.
Bake at 375F for 20 minutes or until a toothpick inserted into the muffin comes out clean. Makes about 16 muffins.