I have been baking quite a bit for the holidays this year, and the other day decided to make some cookies that I hadn't made in a LONG while – Cinnamon Twists! They're a little more time intensive and messy than other cookies, more of a pastry in some ways, but they're also not as sweet and go really well as a classy side to hot beverages. And they look fancy: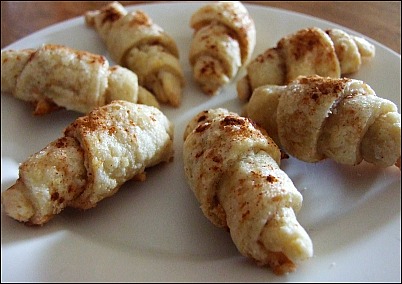 Here's the recipe – enjoy!
Cinnamon Twists
4 cups sifted flour
1 1/2 cups margarine
3 egg yolks
1 cup sour cream
1 teaspoon vanilla
3 egg whites
3 tblsp. sifted confectioner's sugar
1 teaspoon vanilla
sugar and cinnamon
Place in a large bowl: flour, margarine, yolks, sour cream, and vanilla. Cut in (as for pastry mix) well and chill overnight. When ready to bake, divide dough into eight parts. Roll each part onto a board dusted with confectioner's sugar. Cut into 8 or 12 wedges. Then beat the egg whites until fluffy; gradually add sifted confectioner's sugar. Fold in vanilla. Brush rolled dough with egg mixture. Sprinkle with sugar and cinnamon. Roll each wedge loosely (starting at wide end). Brush rolled slices with egg mixture and cinnamon and sugar. Place on greased cookie sheet in oven at 400 degrees. Bake for 10 to 12 minutes or until golden brown. Supposedly, this serves about 30 people.