It's 85 degrees with 100 percent humidity. You happen to have a nice bunch of fresh kiwi fruits in the refrigerator. Do you just cut them up and eat them?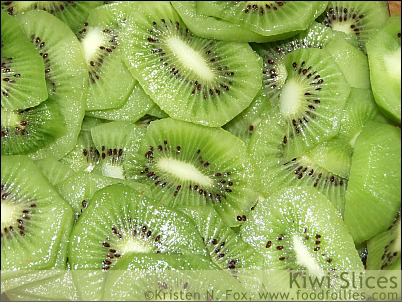 Well, you could. And it would be delicious. But even better because of the high temperature, make kiwi sorbet! Here's the recipe we used, pieced together from various versions found online to make our own:

Kiwi Sorbet Recipe
4 or 5 kiwis
2 tablespoons lemon juice
3/4 cup sugar
2 tablespoons corn syrup
2 cups ice cold water
ice cream maker of some sort
Cut your kiwi up into small pieces into a medium sized bowl. Sprinkle the lemon juice over it. Then sprinkle the sugar over it and mix it up a bit. Cover it and put it in the refrigerator for an hour.
Take the kiwi out of the fridge, and put it in a blender or food processor and blend/mix until it's puree. Some chunks are okay. Add the corn syrup and the cold water and mix until blended – won't take long – a few bursts is all. Final concoction may seem a little liquidy, but that's just right.  (If you don't want the little seeds in your sorbet, this would be the best point to put the liquid through a strainer – if you still had chunks in your puree though you'll have to manually make sure those get into the final mix of course.)
Pour it into your ice cream maker and follow manufacturer directions. Put in freezer!
And *poof* – hot day deliciousness…