I scanned the internet for a good double chocolate chip cookie recipe, and found one that I tweaked a bit – they came out fabulous! Of course, it's hard to mess up basic chocolate chip cookies, but you don't want to take serious risks with CHOCOLATE! 😉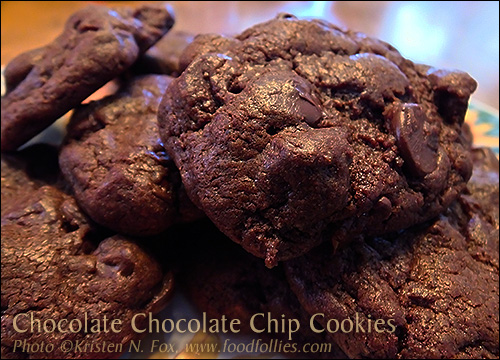 They were gooey when they came out of the oven but after waiting for them to cool down before removing them to the cooling rack, they stiffened up nicely, and then remained chewy for as long as they lasted. I think my swapping out some of the white sugar for brown sugar helped. Also, feel free to use a little less sugar if you like – reviews of the original recipe seemed to indicate that the amount can be flexible according to taste.
Here's the final recipe I ended up with:
Chocolate Chocolate Chip Cookies
1 cup butter
1 cup white sugar
1 cup brown sugar (not packed)
2 large eggs
2 teaspoons vanilla
2 cups flour
3/4 cup cocoa
1 teaspoon baking soda
1/2 teaspoon salt
12 oz. bag of chocolate chips
Cream together butter and the sugars. Then add in eggs and vanilla, mixing well.
Blend in cocoa, and then baking soda and salt.
Mix in flour.
Fold in chocolate chips.
From dough, make balls about the size of a rounded teaspoon, place 1.5 inches apart on ungreased cookie sheet. Slightly flatten each ball.
Bake at 350F for 8-9 minutes. Cookies will be gooey when you pull them out of the oven – let them sit in the cookie sheet for at least five minutes before using spatula to remove them to the cooling rack.