I found the original recipe for these Chocolate Muffins (are muffins just cupcakes without frosting?) on the internet, looking for a recipe with oil instead of butter, and then tweaked it. These are fabulous! So rich and tasty! Highly recommended.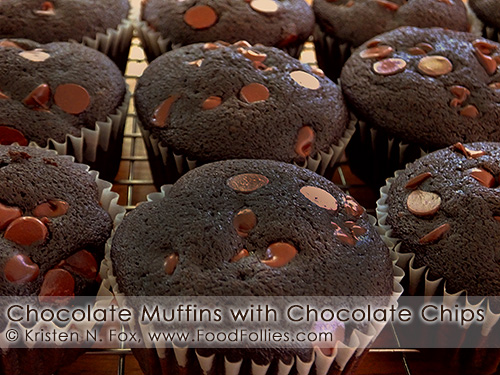 And here's the recipe:
Chocolate Muffins with Chocolate Chips
1 1/2 cups flour
1 cup sugar
1 tsp baking soda
1 tsp salt
1/2 cup cocoa powder
1 cup hot water
1/2 cup oil
1 egg
1 tsp vanilla
1 tsp vinegar
6 oz. pkg of chocolate chips
In a large mixing bowl, combine all of the dry ingredients. Mix/whisk together until blended.
Add water, oil, egg, and vanilla to dry mixture. Mix things together and then add the vinegar and mix until the batter is smooth and free of lumps.
Line a cupcake tin with paper cups. Fill each cup 2/3 full with batter. Sprinkle a few chocolate chips on top of the batter in each cup, about 8-10 chips per muffin.
Bake at 350 for 20-25 minutes. Makes about 16 cupcakes.