John made the sauce, this time with fresh, mild, Italian sausage. I made the fresh lasagna noodles with my trusty pasta play-doh machine. Cows and companies made the ricotta and mozzarella cheeses. I think Pyrex made the glass pan… but I think I'm getting off track. It ended up being a seven layer lasagna that just seemed to melt in your mouth.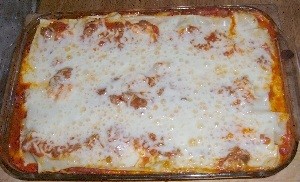 (We tried to take a photo of the layers, but that just wasn't going to happen – too much cheese and sauce in the way for a good shot. ALAS!) There's just something about fresh pasta that makes me want to NEVER go back to dried/boxed pasta. That's probably not terribly practical, as one doesn't always have the time, but it's so worth it. It's much more light and tender, I don't feel overly stuffed, and best yet, I don't feel like I have to take the entire night to digest it all.
Eventually, this food weblog will talk about something OTHER than fresh pasta, but it's our latest 'thing' right now. You'll see – you'll miss it when it's gone.