Over the holiday weekend, we took a drive out to Pacific Grove, CA with the idea of watching the pacific ocean crash on the rocks for a while and getting a bite to eat. We arrived at our favorite spot at Pacific Grove (away from touristy crowds and the inner Monterey Bay area with its too calm water) where the waves were huge and blue-green and crashed against the rocks with much dramatic effect – ahhhhh!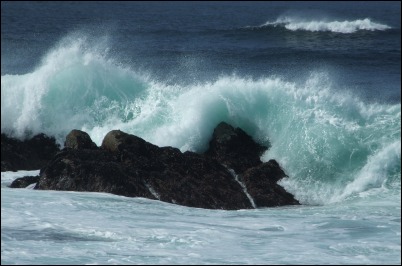 After we'd rejuvinated our souls with the sound of surf and seagull cries, we hopped back in the car and drove down the main drag looking for a place to eat. Unfortunately, it was Monday, and most every restaurant we spotted had a 'closed' sign in the window, although we did find two that seemed open. One had a large neon 'OPEN' sign, but we soon realized it was the same restaurant that we ALWAYS eat in when we come out this way. Not that there's anything WRONG with that, but we were in the mood for something new and uncharted. The only other place we saw was an unassuming building on the corner with the sign "Passionfish" outside – we guessed it was a restaurant because there were people sitting in there at tables, and the word 'fish' in the sign, but it wasn't incredibly obvious.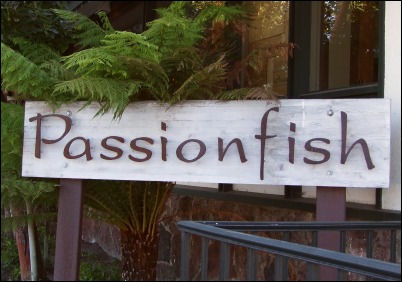 It looked a little more swanky than what we'd planned, but it seemed like a good bet, so we stepped inside. First thing we noticed were all the wine racks and linen tablecloths – yup, definitely more swanky! The decoration was simple elegance and seemed to fit the place. After we were seated, we glanced at the menu and saw at the top that they only used fish caught through sustainable fishing techniques! We hadn't been consciously looking for a 'green' restaurant, but it looks like we found one – yay for synchronicity!
And as I implied, the food was expensive but fantastic. The sourdough bread was very tasty and came with super-whipped and chilled butter. (I know olive oil is 'cool', but I still prefer butter.) I had pulled lamb and handmade noodles in a reduced oregano sauce with olives and baby spinach leaves. John ordered the Alaskan Halibut topped with a sweet red chili sauce, over Sicilian vegetables in a sweet and sour sauce. We both had water (someday we should go back just for the wines!) until we heard the server telling the people seated near us that they didn't have fountain drinks like Coke, but instead served soft drink made with cane syrup instead of high fructose corn syrup, so we had to split a bottle, sort of as a dessert. Turned out to be Boylan's Sugar Cane Cola which was VERY tasty – like a cream cola almost.
When our server (a friendly, down-to-earth, but professional woman) brought the bill she didn't include mints as restaurants often do, but a small pocket guide about what kinds of seafood were fished responsibly, which were known to have mercury contaminants, etc. It was done in such a simple and unassuming way though that it wasn't annoying at all, although usually I hate people trying to "educate" me with information they want to impart when I didn't specifically request it.
So if you're ever in the Monterey or Pacific Grove area of the Central Coast of California, check out the Passionfish Restaurant – at least for the amazing food, but also for their conscientious approach to cooking… and maybe also for their EXTENSIVE wine list!
[Tags: fish, food, restaurant, california, pacific ocean]