I told you (or at least I think I told you) that we had a backlog of images/experiences to share – this is one of those posts – heh.
So, over the holidays I'm in the habit of making a nice big batch of this REALLY smooth fudge. You have to keep it refrigerated, but it's SO worth it!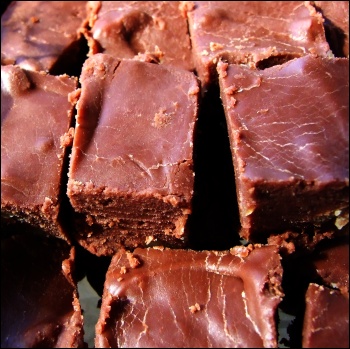 It's really easy to make too – I highly recommend it. And actually, it's a good thing you have to keep it in the fridge because the extra step makes it last a LITTLE longer… possibly. (The recipe is from my friend's Mother!)
Sal's Fabulously Smooth Fudge
1/2 pound butter
3 6 oz. bags Nestle Chocolate Chips
3 teaspoons vanilla
3 cups chopped walnuts
4 1/2 cups granulated sugar
1 can Carnation EVAPORATED milk
In large bowl, put butter, chocolate chips, vanilla, and walnuts. Set aside.
In large sauce pan, combine evaporated milk with granulated sugar. Bring to a rolling boil, and stirring continuously, boil for 6 minutes. Then, pour hot mixture into chocolate chip mixture, mixing until chocolate chips and butter are completely melted.
Put mix into buttered pans (at least one 9X13 and a 9X9 may be enough), so that fudge is one inch thick, and let sit in refrigerator to set. When totally set, cut into bite sized pieces and store in a tin or plastic container lined with wax paper, in the refrigerator.
Makes about 5 pounds. *** KEEP REFRIGERATED***