For some reason I had a little extra time on the day before Thanksgiving, so I decided to make a Jam & Cheese Loaf for breakfast the next day. It's essentially a biscuit base, cream cheese filling, topped with the jam of your choice. Really easy and really tasty, and it looks pretty neat too, since you braid the dough over the filling: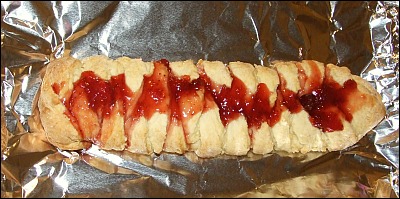 I basically halfed this recipe since the full recipe makes a pretty large loaf. We finished it off in no time.
Jam and Cheese Loaf
1 package hyperactive, dry yeast
1/2 cup warm water (110-115 degrees)
2 1/2 cups packaged biscuit mix
1 beaten egg
1 tablespoon sugar
1 8-ounce package cream cheese, softened
1/2 cup sugar
1 tablespoon lemon juice
1/4 cup desired jam or preserves
In a mixing bowl, dissolve yeast in water. Stir in biscuit mix, egg, and one tablespoon sugar. Turn out onto surface dusted with additional biscuit mix. Knead gently 20 strokes. Place dough on a greased 15 1/2 x 12 inch baking sheet. Pat into a 14 x 9 inch rectangle.
For filling, stir together cream cheese, the 1/2 cup sugar, and lemon juice until smooth. Spread lengthwise down center third of rectangle. Make 3 inch cuts in dough at 1 inch intervals on both sides of filling. Fold strips alternately over filling. Cover. Chill Overnight. Bake in a 350 degree oven for 20 minutes. Spoon desired jam down center of loaf. Bake 5 minutes more or until golden brown. Cool 10 minutes. Makes 1 loaf.