It's holiday time, so I'm starting to pull out recipes I usually only make this time of year. (For no other reason except that it's nice to have some recipes for special occasions.) I started with Cherry Cookies, since I haven't made those in a LONG time, and they look so darn festive – covered in chopped walnuts with a cherry in the center!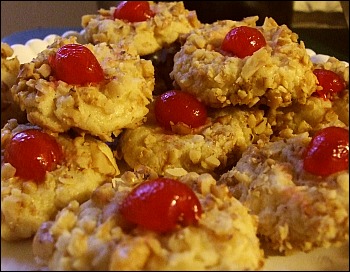 See? Festive!
Cherry Cookies
2 cups flour
1 tsp. baking powder
1/4 tsp. salt
1 cup butter or margarine (softened)
3/4 cup sugar
2 egg yolks, beaten
1 tsp. vanilla
2 cups finely chopped walnuts or pecans
2 unbeaten egg whites
cherry halves
In small bowl combine flour, baking powder, and salt.
In large mixer bowl beat margarine and sugar until light and fluffy. Add egg yolks, dry ingredients and vanilla. Mix well. Chill dough 30 minutes. Preheat oven to 375 degrees.
Grease 2 large cookie sheets. Place chopped nuts in one small bowl and egg whites in another. Roll dough by the teaspoonful into balls, flatten slightly, dip in egg whites, then roll in nuts. Place on cookie sheets. Press cherry half into center of each cookie. Bake 12 minutes. Cool on wire racks. Makes about 54.