Peppino's Family Pizzeria and Restaurant has recently opened it's doors in Rosendale, NY (Mid-Hudson Valley area, just south of Kingston and north of New Paltz) – it's on route 32, just north of the Rosendale bridge. (They have at least one other pre-existing location in Callicoon, NY,  hence the 'Est. 1990' in the awning below.)
As you can see from the picture, on the outside, it's a rather unassuming place in a rather unassuming plaza, but the charm in this restaurant lies inside, in the tasty, tasty food!
First off, let's discuss the pizza. The thin-crust pizza is the perfect blend of firm, yet thin and crispy. They say they have a secret to what makes the crust so light (rather than thick and doughy and overly filling) but they wouldn't tell me what it is when I asked – drat! Their red sauce is, to me, just the perfect mix of sweet tomato and Italian spices that sets the stage perfectly for whatever you want on it or under it. Our latest favorite is a cheese pizza with sausage and fresh sliced tomatoes, with the sausage coming in easy to chomp strips instead of chunky coins or 'pebbles' like a lot of chain pizza restaurants use. The perfection in the dough carries over into their other items like their calzones as well (which are usually too big to eat in one sitting unless you really want to stuff yourself!) – crispy and all melty with really creamy ricotta and melted mozzarella. Doesn't get much better than that!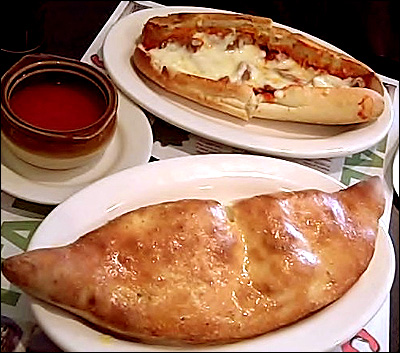 (Probably not the best photo – and it's so hard to really photograph food well – but you get the idea.)
Another favorite we have (although it's only opened recently, we've been there a LOT, can you tell?) are the subs. John likes to order the 12″ eggplant parmigiana sub sandwich. They get their sub rolls from one special place because of the great quality – excellent taste, supportive of the heavier sandwich fillings, but also light and crispy on the outside. They also make great panini's, and even great burgers if you're with a group that wants pizza but you just feel like something different sometimes.
The staff is always friendly too. And although the walls could use a few more decorations, and it's certainly not a fancy linen-tablecloth type place, they've got cozy booths and tables big enough for large families too.
So if you're in the area, we highly recommend Peppino's. As we said, they're at 1157 Rt. 32 in Rosendale, NY, in the same plaza with 32 Lunch. (Their number is 845-658-8887 if you want to call for specific directions.)
Note: Unfortunately, Peppinos has now closed. We'll keep the tasty memories forever though!