Yup, I whipped up some muffins made from raisin bran cereal, of which we had much, and of the mostly stale variety!  I love finding a new use for things I'd otherwise have to throw away, and as often as we found ourselves with a partial box of stale raisin bran sitting around (shall have to investigate that), I just never got around to making these before.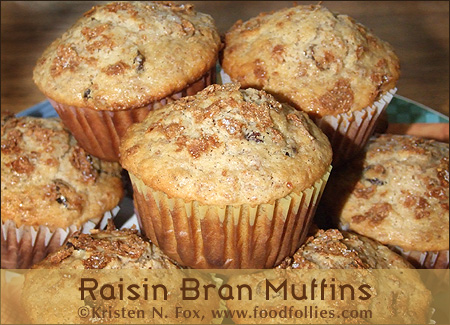 I took the basic recipe from the web and then tweaked it a little to add a bit more flavor and pizzazz – raisin bran muffins just SCREAM pizzazz, don't they. ;)Â  Here's the recipe …
Raisin Bran Muffins
1 1/4 cups all-purpose flour
3 tsp. baking powder
1/2 tsp. salt
1/2 cup sugar
1/4-1/2 tsp. cinnamon
3 cups raisin bran cereal
1 1/4 cups milk
1 egg
1/3 cup vegetable oil
(also need some crumbled bran flakes and sugar for topping)
Mix the first five (dry) ingredients together in a medium sized bowl and set aside.
In a large mixing bowl, mix cereal with milk, and let set for a few minutes to soften the cereal. Add the egg and vegetable oil and stir until blended.
Add the flour mixture to the cereal mixture, stirring only until ingredients are blended well.
Either use cooking spray in a muffin tin or line the muffin tin with paper muffin liners. Then divide the batter between all twelve muffin spots – they will be pretty full.
Before putting the muffins in the oven, sprinkle a little bit of crumbled bran flakes and then sprinkle a little sugar over each muffin, for a crunchy topping.
Bake at 400F for 25 minutes. Cool on wire rack.  (recipe from foodfollies.com)