I decided to make some Blueberry Crepes for our 16th anniversary breakfast. Looking around the web I found a lot of variations but I decided to go with the way I remembered having them as a kid. (Does anyone remember a restaurant called the Crepe and the Pancake?) These were not the rolled kind that caused so many injuries in an episode of Seinfeld, but more gently folded like an omelet.
First step was the whipped cream. I don't mean the store bought stuff; it only takes a few minutes to throw together the real thing and it's so worth it! Once made, I put the whipped cream in the fridge and began working on the crepes.
For the filling, I combined blueberries, orange juice, cinnamon, vanilla and salt in a sauce pan and put them on a low heat. I heated them until the blueberries started to soften and release their juices. I set the mixture aside and made the batter next.
The batter is very similar to pancake batter but a lot thinner. I thought it was too thin at first, but decided to trust the recipe and go for it. Flipping them was tricky, I used two spatulas to get the majority of the crepe off of the pan before flipping.
Once they were done I moved the crepes to a plate one by one, spooned in the filling to one side and folded them over. The filling was still warm enough to serve, so there was no need to heat anything. Top them with a dollop of whipped cream, then eat!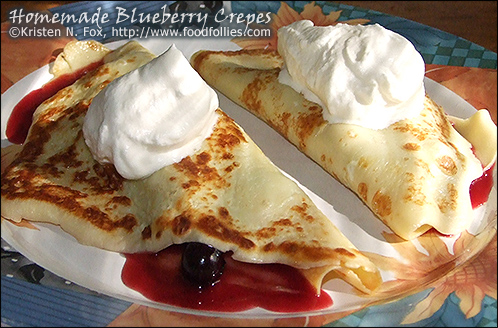 The result was delicious! The blueberries were a little tangy which worked really well with the sweetness of the mixture and the whipped cream. The crepes had a soft, almost elastic texture to them which held the filling together but broke easily with a fork. I'll definitely be making these again in the future.
Blueberry Crepes
Whipped Cream
1 cup of heavy cream
1 tbsp. confectioners sugar
1/4 tsp. vanilla
Put ingredients in a medium to large bowl and mix with an electric mixer or a food processor. It will take a couple of minutes but watch it carefully. Stop mixing once peaks start to form or you may end up with butter. Store whipped cream in refrigerator until ready to garnish crepes.
Blueberry Filling
1 pint blueberries
1/2 orange juice
1/4 tsp. cinnamon
1/4 cup sugar
1 pinch of salt
1 pinch of corn starch
1/8 tsp. of vanilla
Mix blueberries, orange juice, sugar, salt, and vanilla together in a medium saucepan. Heat over low heat until the blueberries start to soften, stirring occasionally. Sprinkle a small amount of corn starch into the mixture and stir. Remove from heat but continue to stir occasionally. If the sauce looks too thin you can add more corn starch and reheat for a few minutes. Be careful not to over starch it though. It's better for the mixture to be a little runny than it is to taste corn starchy.
Once done, it will probably stay warm enough to spoon right into the crepes, but if not, just reheat over low heat for a few minutes.
Crepes
1/2 cup flour
2 eggs, lightly beaten
3/4 cup milk
1 tbsp. Sugar
1 pinch salt
Preheat griddle or pan and add butter or nonstick cooking spray. Once warm, keep it on a low to medium heat.
In a large bowl, combine the dry ingredients first, whisk together thoroughly. Break the eggs in a separate bowl and beat just enough to break the yolks. Add the eggs and milk to the dry mixture and whisk until batter is smooth. It will look very thin, but that's normal. Use a ladle or pitcher to pour the batter onto the griddle in approximately 9-inch circles, although you can make them bigger or smaller as you wish. Watch for the sides of the crepe to look firm and then gently flip with a spatula. Once both sides are done, place on a plate, scoop the prepared blueberry filling to one side of the crepe circle, then fold the crepe over and garnish with whipped cream.