About a month ago I signed up to get notices from King Arthur Flour, as I had found some interesting products and recipes the few times I'd poked around there. A few days ago, they shared their Easy Pumpkin Bread recipe. Since it was almost Halloween, and we had a can of pumpkin in the pantry, I was good to go!
It WAS an easy recipe. I did make 2 loaves, as the recipe indicated, after considering cutting the recipe in half. I decided on the 2-loaf version mostly because it uses the whole can of pumpkin, and who was going to remember they had a tiny plastic container of pumpkin in the fridge? No one in our household – it would have ended up in the back behind all the seltzers, and one day in February we'd pull it out and ask each other, "What IS this?" And so… 2 loaves. (Not that having TWO loaves of delicious pumpkin bread to eat is a heartache – LOL – the other one went into the freezer.)
The recipe was simple, basically mixing everything together. And I had one dark, nonstick bread pan and a glass bread pan, and the nonstick pan was done at least ten minutes before the glass one because it was dark – I took it out of the oven at that time and let the other one finish baking. (So if you have the same issue – keep an eye on that.) It's really moist and tasty! Here's a slice: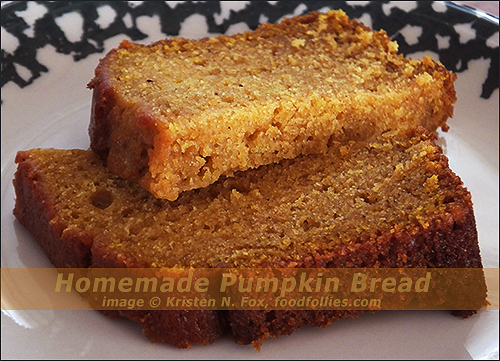 And here's the recipe from King Arthur Flour:
Easy Pumpkin Bread Recipe
1 cup vegetable oil
2 2/3 cups granulated sugar
4 large eggs
2 cups (or one 15-ounce can) pumpkin (not pumpkin pie filling)
2/3 cup water
3 1/3 cups unbleached all-purpose Flour
1/2 teaspoon baking powder
2 teaspoons baking soda
1 1/2 teaspoons salt
1 teaspoon nutmeg
1 teaspoon vanilla extract
1 cup chopped walnuts or pecans, optional
1 1/2 cups chocolate chips, optional
coarse white sugar for sprinkling on top, optional
1) Preheat the oven to 350°F. Lightly grease two 8 1/2″ x 4 1/2″ loaf pans (if you're making the plain version of the bread); two 9″ x 5″ loaf pans (if you're adding chocolate chips and nuts); or one of each, if you're making one plain loaf, and one loaf with chips and nuts.
2) In a large bowl, beat together the oil, sugar, eggs, pumpkin, and water.
3) Add the flour, baking powder, baking soda, salt, nutmeg, and vanilla, stirring to combine.
4) Mix in the chips and nuts, if you're using them. To make one loaf with chips/nuts, one loaf without, divide the batter in half. Leave one half plain, and add 3/4 cup chips and 1/2 cup nuts to the other half.
5) Spoon the batter into the prepared pans. Sprinkle the tops of the loaves with coarse sparkling sugar, if desired.
6) Bake the bread for 60 to 80 minutes, or until a cake tester or toothpick inserted in the center of the loaf comes out clean; and that same tester inserted about 1/2″ into the top of the loaf doesn't encounter any totally unbaked batter.
7) Remove the bread from the oven, and cool it on a rack. When it's completely cool, wrap it well in plastic wrap, and store it overnight before serving.
Yield: 2 loaves.