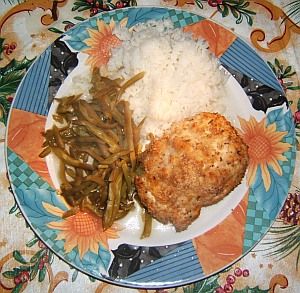 Tonight we made Chicken Cordon Bleu one of my favorite dishes.
It's also one I have seen maligned in sad and evil ways:
The most evil by far was done by a fellow cook I worked with who believed he was "God's gift to cooking." He dredged the unflattened chicken breasts in flour, added the ham and cheese, rolled it up and dropped it in the deep fryer to seal it in. Those of you who are familiar with restaurant deep fryers know how long that would take to cook the chicken thoroughly. (I didn't try it, so I don't know if it was fully cooked.)
As if to add insult to injury, he then made a cream sauce and poured it into the serving pan over the greasy chicken. The final result crusty brown chicken breast peeking out from a two inch lake of yellowish cream sauce, with pools of grease reflecting the flourescent lights from the cafeteria ceiling above. (shudder)
The second, less deadly but terribly disappointing entry was the Chicken Cordon Bleu sandwich from Jack in the Box. For starters, it was done on plain grilled chicken, which was dry and tough. The "we don't make it until you order it rule" (which means assemble it, not cook) left the overcooked warm chicken breast unable to melt the swiss cheese on the sandwhich. Finally, the supposed "creamy garlic parmesian" sauce tasted a lot like Ranch dressing to me.
The most acceptable food item using the name Chicken Cordon Bleu is the institutional pre-frozen type with processed chicken. They're not great, but at least they're tasty.
Homemade Chicken Cordon Bleu on the other hand is not that hard to make and is delicious! I made a slight error this time around, I breaded the chicken prior to rolling it up. This led to some excess cheese leakage from the the chicken, but the final result was still excellent!
Chicken Cordon Bleu
6 boneless, skinless chicken breasts
deli ham
deli sliced swiss cheese (and/or monterey jack cheese)
butter
2 eggs
seasoned bread crumbs
(white rice and a cooked vegetable as side dishes)
Pound the chicken breasts flat (to about a half inch thick). Then layer the ham on top of the chicken, then the cheese, then about a tablespoon pat of butter.
Wrap the chicken breast plus ingredients up into a roll and skewer twice at different angles to prevent unraveling. Trim any excess skewer so that the piece is manageable. Break 2 eggs in a bowl, but don't blend, just lightly break yolks. Fill another bowl with seasoned bread crumbs. Dip chicken roll in egg – make sure it's entirely coated. Then, roll the chicken around in the bread crumbs until entirely covered.
Bake in a 350 degree oven for about 45-50 minutes or until golden brown and center is at 150 degrees (and not pink). Serve with skewers in, but REMOVE SKEWERS BEFORE EATING. Rice and a vegetable round out this meal nicely.