Yesterday, I had to keep John out of the kitchen while I was making his birthday cake for today (he's a solstice baby!). Usually I try to make him either an interesting chocolate concoction (the best homemade chocolate cake I've made so far was a chocolate mayonaisse cake) or some kind of orange cake, which he's liked since he was a kid. I've made a few orange cakes from scratch, with reasonable success, but haven't found an orange cake mix in the store for years…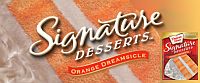 …Until I saw this Duncan Hines Orange Dreamsicle Signature Dessert mix in the store. I grabbed it a few months ago and have kept it in a non-descript paper bag in the back of the cabinet until now. (It's not easy hiding cooking things when your partner likes to cook too!)
For various technical reasons with our kitchen at this time, I chose to go with the 9×13 sheet cake (keeping it in the glass baking dish) instead of making two round layers. The cake mix is a basic orange-flavored cake mix. Then, you mix boiling water with a powdered orange gelatin-ish packet (in a bowl, of course), and then add cold water too. After a few minutes, which you can spend poking holes in the cake, you slowly pour the gelatin mixture over top of the cake and let it soak in, and then chill it for an hour to set. The 'frosting' is a white mousse mix that you just add milk to and whip up.
Although buying it all in one box was certainly convenient, you could get a cake mix, a package of jell-o, and white mousse mix and create the same effect. Or do the cake and mousse from scratch too. Cake, poke holes, add liquid jello, chill, frost with mousse. Doesn't seem like there's too much that can go wrong with any variations.
So, how did it come out? Very tasty! The only problem was that the gelatin made it rather sticky and it stuck to the bottom of the pan a bit, making it hard to get a picture-perfect piece for a photo, so I can see why they tell you to turn it out of the pan you baked it in, maybe onto a cake plate or flat tray. In any case, here's the birthday boy's piece: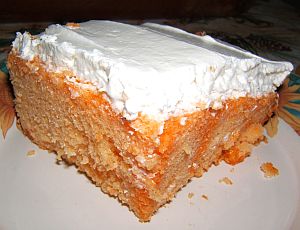 I'd definitely do some variation on this cake again. I REALLY like the white mousse and orange cake combination. The gelatin made the cake, as John suggested, a bit like a pineapple upside down cake because of the moist texture, but it was all quite light and festive and delicious in the end.