Sometimes you're inspired to try something new, and sometimes you've just run out of the instant stuff. This is definitely the latter case.  We had looked up a recipe from allrecipes.com a while ago, and decided to give it a try.
There are two main differences between the homemade and commercial versions (not counting the various "enriched flour" ingredients). The first is the use of butter instead of hydrogenated cottonseed or soybean oil, and the second was that the homemade recipe used only one egg instead of two.
The pancakes themselves came out lighter and softer than their commercial counterparts. The taste was good, but it felt a little like something was missing. We're thinking of trying a second egg in mix next time to see how that tastes.
Overall it was a fairly easy process, and I liked removing the hydrogenated oils from the mix.
Now, after many iterations and recipe tweaks from ourselves and others, we've posted the recipe we use, below.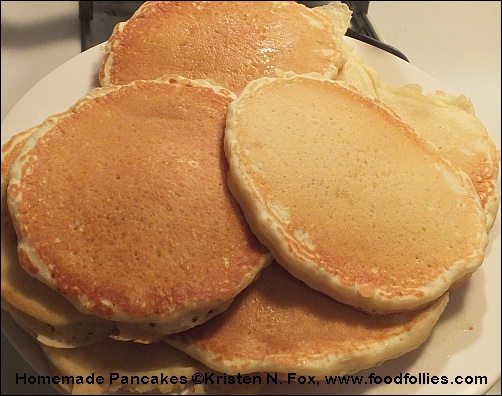 Homemade Pancake Recipe
1 1/2 cups milk
4 tablespoons white vinegar
2 cups flour
4 tablespoons white sugar
2 teaspoons baking powder
1 teaspoon baking soda
1 teaspoon salt
2 eggs
4 tablespoons melted butter
1. Combine milk with vinegar in a medium bowl and set aside for 5 minutes to "sour". (If you have buttermilk, you can use that instead of the regular milk and vinegar.)
2. Combine dry ingredients in a large mixing bowl.
3. Whisk egg and melted butter into "soured" milk.
4. Pour flour mixture into wet ingredients and whisk until lumps are gone.
5. Heat nonstick large skillet or griddle over medium heat and coat with cooking spray or light oil/butter. Pour 1/4 cupfuls of batter onto griddle. Cook until many bubbles appear on the surface of the pancakes. Flip with a spatula and cook until browned on the other side.
Makes about 20 good sized pancakes.